2023 PPIC Conference Hotel
Welcome to The Historic Davenport Hotel, Spokane's grandest and most iconic destination. Brilliantly reinvented for the 21st century, immerse your stay in the glamour of 100 years of history, glimmering with renewed luster.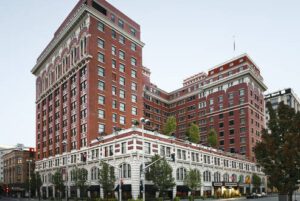 The Historic Davenport Hotel
10 South Post Street, Spokane, WA 99201
Phone: +1-844-631-0595
https://www.marriott.com/events/start.mi?id=1673480162260&key=GRP
Guest parking is currently $25 for overnight self and $35 for overnight valet.
For PPIC room reservations, please click here (link coming soon…)
Transportation
Hotel Shuttle is provided from the Spokane International Airport to The Historic Davenport Hotel, as well as The Davenport Grand and Tower Hotels – Contact 509-455-8888 for pickup information.
Spokane International Airport (GEG)
Concourse A   Allegiant, Frontier, Southwest, & Sun Country
Concourse B   Delta & United
Concourse C   Alaska & American